NAME:
Theresa Ingram
WHERE DO YOU WORK?
I have worked with Monash Health for 15 years, and am currently based at Monash Medical Centre in Clayton Victoria.
WHAT IS YOUR CURRENT ROLE?
I am a registered nurse working in Oncology Research, as a Clinical Trials Coordinator. In this position I collaborate with oncologists and my team to implement clinical trials that are suitable for our patients. We see patients in clinic a few days a week when they have medical reviews and receive their treatment.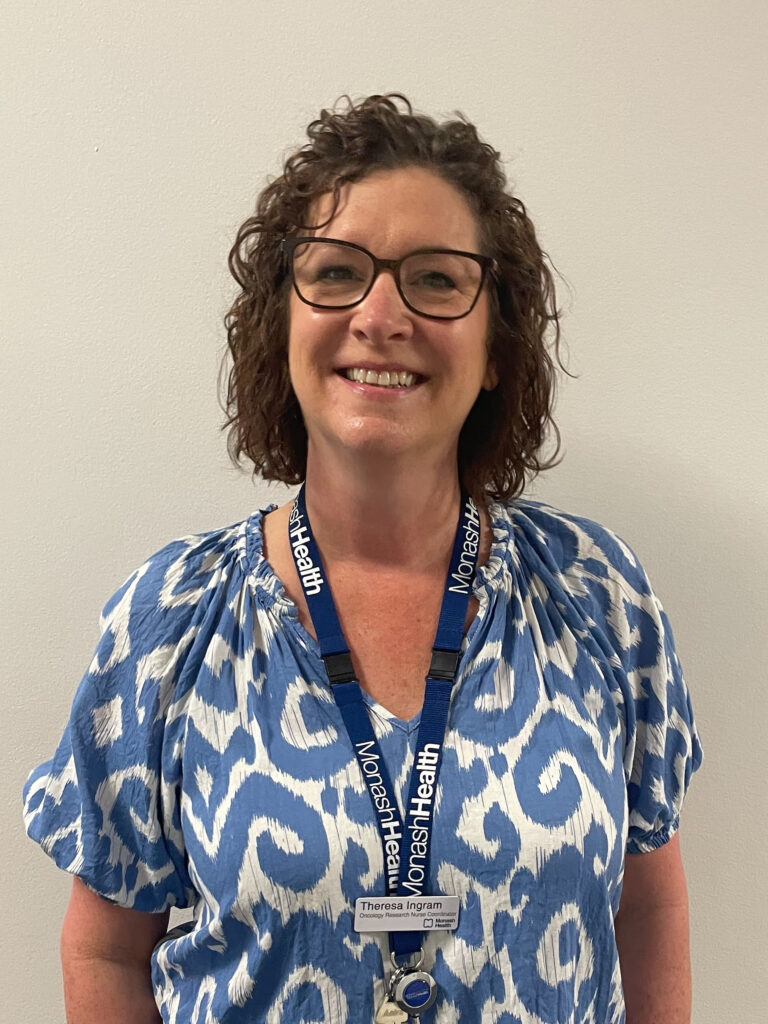 ---
WHAT LED YOU TO WORKING WITHIN THE AREA OF LUNG CANCER?
With a background in Emergency and Education, I was looking for a change post-Covid. A friend encouraged me to join her in Oncology Research, and I have been working as a Clinical Trials Coordinator in the Lung Team ever since. I really love it.
WHAT DO YOU LOVE MOST ABOUT YOUR ROLE?
I love the excitement when new studies emerge that can offer options to Lung Cancer patients. I am a planner at heart, so being in a position that allows me to organise and plan care for patients is right up my alley! The study requirements and side effects aren't always easy, so I enjoy being able to encourage and educate patients along their journey. Witnessing positive results for patients is inspiring and makes me really happy.
WHAT DO YOU FIND THE MOST CHALLENGING ABOUT YOUR ROLE?
We are a very busy unit seeing a lot of patients. It can be challenging to accomplish all that I want to, but I'm lucky to work in a strong, supportive team. Being busy means we are reaching a large number of people in the community, and it is always exciting to know we are in a position to offer some new treatment options to as many patients as possible.
WHAT PIECE OF ADVICE WOULD YOU GIVE TO SOMEONE INTERESTED IN WORKING IN THE FIELD OF LUNG CANCER?
This is an amazing area with a lot of need. Having an understanding of the options available to patients helps to see the journey they may encounter. You can be part of that along the way at any point; working in the Oncology Ward, Chemo Day Unit, Radiotherapy Unit, Palliative Care, or in Research and Clinical Trials like I am.
WHAT HOBBIES / ACTIVITIES DO YOU ENJOY OUTSIDE OF WORK?
I enjoy travelling back to the USA to visit my family & friends and seeing new parts of the world along the way. Relaxation time usually includes reading a good book or trying a new recipe. My favourite days are the ones I spend with my husband, children, and grandchildren.