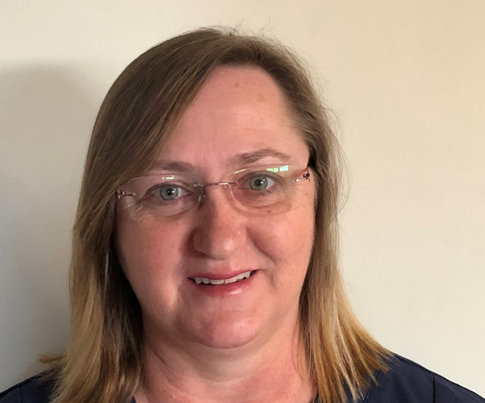 NAME:
Melanie Rabbets
WHERE DO YOU WORK?
Crown Princess Mary Cancer Centre,Westmead Hospital, Sydney, Australia
WHAT IS YOUR CURRENT ROLE?
Clinical Nurse Consultant in Thoracic Oncology
WHAT LED YOU TO WORKING WITHIN THE AREA OF LUNG CANCER?
After immigrating to Australia in 2001, I worked in a chemotherapy infusion centre. There I met many lovely patients but was particularly drawn to patients living with lung cancer. Twenty years ago, the outcomes for patients with lung was very poor. Patients presented with high symptom burden and large amounts of unmet needs. The consultant position became available in 2013 and I applied for it and was very surprised when I was the preferred candidate. Nine years later, I can honestly say that I do not regret the choices I made.
WHAT DO YOU LOVE MOST ABOUT YOUR ROLE?
It is a privilege to be involved in my patients' care and I am very humbled by the trust patients and their families place in me. I cannot change the outcome for many patients, but I can hopefully help to smooth the path and by empowering patients to take control of the disease and its impacts.
I am very fortunate to be involved in patients care from diagnosis to the end of their life. I love the fact that I work alongside some amazing clinicians who place the patient at the centre of our care.
I am very grateful to be a member of the Lung Cancer Nurses forum who provide support and guidance to the benefit of patients and families living with lung cancer.
WHAT DO YOU FIND THE MOST CHALLENGING ABOUT YOUR ROLE?
I am the only lung cancer nurse in our district, and we see on average 250-300 new patients each year. I find the "shortage" of time and the limited resources very challenging. Not having appropriate access to Allied Health Services significantly impacts on patients and stretches my own capabilities to its limits.
WHAT PIECE OF ADVICE WOULD YOU GIVE TO SOMEONE INTERESTED IN WORKING IN THE FIELD OF LUNG CANCER?
After 32 years of nursing and 18 of those years in oncology, I can honestly say that I love going to work and l enjoy the patient interactions. Getting to know the person behind the cancer is extremely rewarding. If you have a desire to improve patient outcomes, even on a small scale, then definitely consider working in a lung cancer multidisciplinary team.
WHAT HOBBIES / ACTIVITIES DO YOU ENJOY OUTSIDE OF WORK?
After I finished my Masters and qualified as Nurse Practitioner, I needed some colour in my life and started doing online tutorials in watercolour painting and have been obsessed with it.
I enjoy reading murder mysteries, good food and spending time with my husband, two adult boys and good friends. In summer, I love spending time on Sydney Harbour, deep sea fishing and swimming in the ocean.