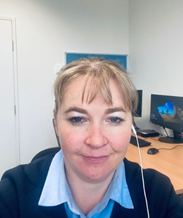 NAME:
Lisa Anderson
WHERE DO YOU WORK?
Northern Cancer Service – LGH, Tasmania
WHAT IS YOUR CURRENT ROLE?
CNC – Cancer Care Coordinator
---
WHAT LED YOU TO WORKING WITHIN THE AREA OF LUNG CANCER?
I originally started working in Oncology Clinical Trials approx. 13years ago and transitioned across to care co-ordination around 8 years ago. I have felt privileged to meet and work with people who have been diagnosed with Lung Cancer and have maintained a strong interest in this area of cancer.
WHAT DO YOU LOVE MOST ABOUT YOUR ROLE?
I have the opportunity to meet lots of different people from various places and varying ages and am continually learning from experiences that people have. I love the diversity of the role of coordination and being able to assess emotional, psychological and physical wellbeing. I enjoy being able to assist patients through their care pathway which includes, diagnosis, investigations, treatment, follow up, survivorship and end of life care.
WHAT DO YOU FIND THE MOST CHALLENGING ABOUT YOUR ROLE?
The biggest challenge is not being able to meet all lung cancer patients and this is largely due to my role of being in a generic care co-ordinator position and working part-time.
WHAT PIECE OF ADVICE WOULD YOU GIVE TO SOMEONE INTERESTED IN WORKING IN THE FIELD OF LUNG CANCER?
I think it's important to be mindful that people process and comprehend a lung cancer diagnosis differently and therefore everyone has different needs at different times in their care.
WHAT HOBBIES / ACTIVITIES DO YOU ENJOY OUTSIDE OF WORK?
Spending time with my family, gardening and walking my dog.