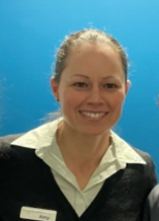 NAME:
Amy O'Donnell
WHERE DO YOU WORK?
Chris O'Brien Lifehouse
WHAT IS YOUR CURRENT ROLE?
Lung Cancer Nurse Specialist
---
WHAT LED YOU TO WORKING WITHIN THE AREA OF LUNG CANCER?
A position came up in Lifehouse in May of 2019. I have always wanted to do care coordination. I was in the right time and place personally after having 2 children to take up the opportunity. It is an area of great need and was just a good opportunity to see if I would like and enjoy the role. I have loved it and am so grateful for the experience.
WHAT DO YOU LOVE MOST ABOUT YOUR ROLE?
The team I work with and the learning opportunities it has given me. Also being able to make a bigger impact on the patient and family experience more so than I have in other roles is really rewarding.
WHAT DO YOU FIND THE MOST CHALLENGING ABOUT YOUR ROLE?
Keeping track of all patients. We do a lot of lung cancer here at Lifehouse and sometimes I feel some people get missed…be we do our best! Differing IT systems, dealing with all the different health systems and processes is a challenge at times also. Patients who have minimal support and speak no English is a big challenge too.
WHAT PIECE OF ADVICE WOULD YOU GIVE TO SOMEONE INTERESTED IN WORKING IN THE FIELD OF LUNG CANCER?
Join ANZ-LCNF, TOGA, IASLC. Sit in on clinic appointments with thoracic oncologists to get a better understanding of lung cancer – particularly appointments with new patients. Attend MDT meetings. Go to conferences. Find a thoracic oncologist/reg/fellow who you trust and ask questions when time permits. I am lucky to have a team that invites questions, and this really helps with my learning and engagement. I do find lung cancer so interesting and there is thankfully a lot happening to help our patients.
WHAT HOBBIES / ACTIVITIES DO YOU ENJOY OUTSIDE OF WORK?
Keeping children entertained/alive (is that a hobby/activity?) Reading biographies and non fiction– I love people's stories, "10 steps to Nanette" is a recent favourite. Pod cast listening. Plus, the usual – exercise (working up to 60kg bench press), COFFEE, massages, not cooking (I am terrible).